On a balmy Alaska Saturday I spent the day with three women artists: Gayla Ranf, Jodi Reeb, and Becky Stephan, who are not only aesthetically entrepreneurial, they enjoy melting wax. My morning began at Stephan Fine Art Gallery where I watched the three demonstrate Encaustics to tourists and flight crews who were checking in/out of the Captain Cook Hotel.
 Encaustic painting which has regained popularity is accomplished by warming a beeswax/damar resin mixture and keeping it liquid in order to brush the hot substance onto smooth wood. The liquid wax is poured into cans (like cat food cans). Powdered pigment, oil sticks, or oil paint are then stirred into the individual containers, or you can buy/melt colored wax bars—arranging a palette of cans  is similar to squeezing paint onto a traditional palette.  A natural bristle brush is then dipped into hot waxes, which begins the layering process onto birch or maple plywood, or Encaustic board.  As wax cools, metal/wood implements sculpt the surface. A chef's torch used to caramelize crème brûlée, not only adds texture to a piece in progress, but a flash of fire can be aimed at specific areas while keeping adjacent quadrants cool.  Dry pigment can also be sprinkled/ brushed onto coagulating wax, and thus manipulated, exposing planes beneath.  It takes practice to maneuver wax before it gets too gummy on your brush. Hot wax painting dates back centuries with the famous Romano—Egyptian Fayum mummy portraits, 100-300 AD.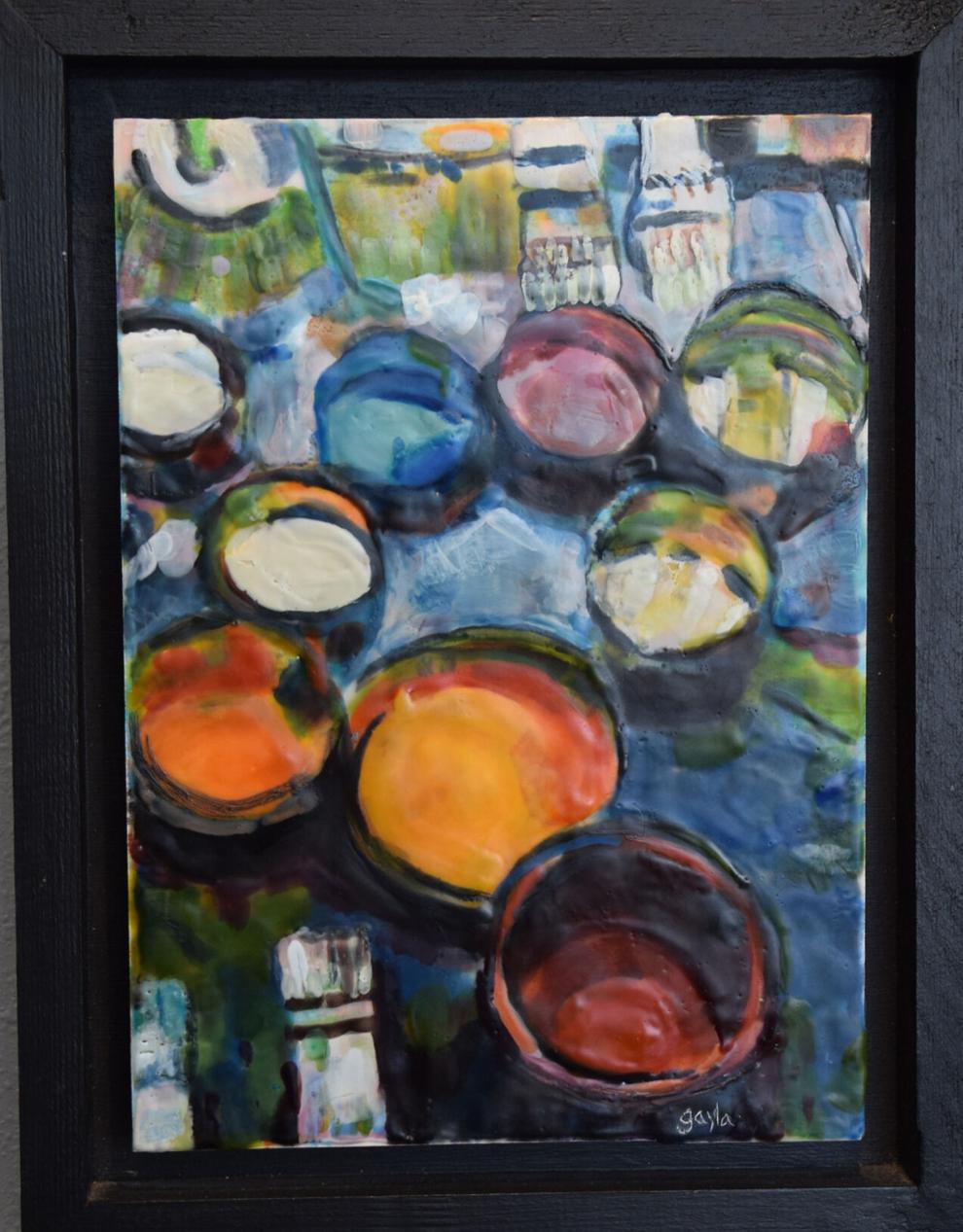 The afternoon of my art adventure was at Gayla Ranf's  Spenard Art Studio (2263 Spenard Road) where she teaches Encaustic painting. Ranf's recently remodeled studio is aglow with blocks of colored wax, and cut plywood, waiting to become masterpieces, while her own paintings decorate white walls. Ranf also prints her wax designs onto women's athletic togs and tote bags, for sale. Individual stations with ventilation allow students less crowding. Beginners who desire to melt wax at home before purchasing manufactured hot plates can buy an electric frying pan (don't use it to cook). Ranf writes, "My passion is wax. Melting the wax and smelling its aroma causes a feeling of captivation and curiosity….Encourage yourself to create quiet spaces, breathe deeply, be in nature, and do things that nourish your soul." Ranf's studio (www.spenardartstudio.com) is a great place to learn a new skill, this upcoming winter.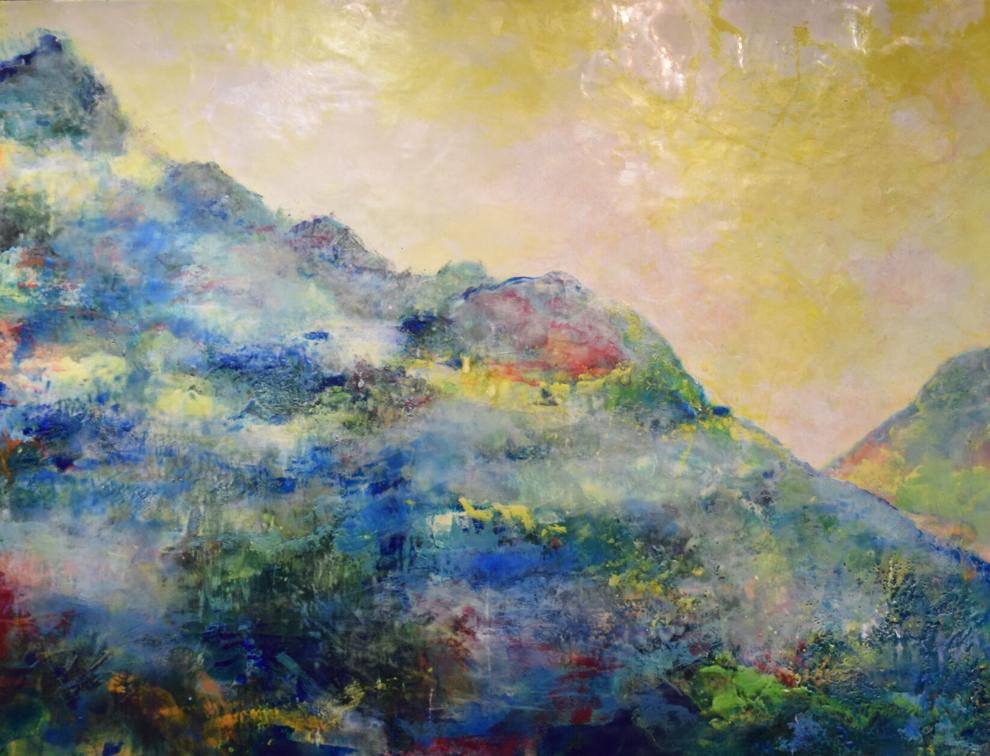 Becky Stephan is the owner of Stephan Fine Art Gallery. She is also a speech pathologist for the Anchorage School District.  Thanks to Stephan, the gallery, which her parents started in 1977, survived the 2008 financial downturn and the 2020/Covid shut-down, to continue offering quality art works to locals, visitors and dignitaries who stay at the Cook.  Becky writes, "I have always been drawn to the challenges that the art business throws my way…. I am inspired by diversity, design, fashion, and I love hearing people's ideas as well as learning about new aspects of the Arts in all its forms…. People often ask me if I'm an artist. Well, I can proudly now say, 'Yes! I am'! I have started working in encaustic and mixed media wax (wax + pigment+ resin + pastel + oil)."  Stephan Fine Arts (www.stephanfinearts.com) is a First Friday destination.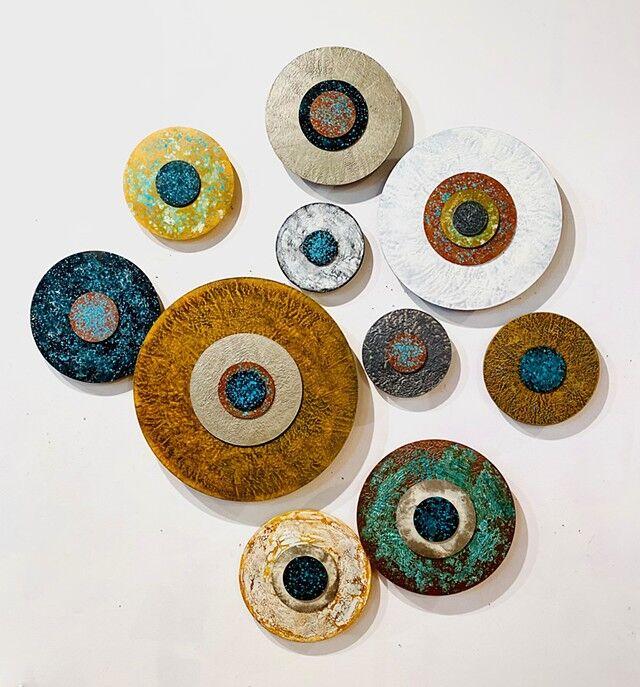 The third Encaustic painter, vacationing from Minneapolis, was Jodi Reeb, who holds a BFA from Minneapolis College of Art and Design.  The next time you hear an artist whine they can't make a living in the art world—Google Reeb (www.jodireeb.com) and read about her mixed-media multi-tasking.  She operates out of the Traffic Zone Center for Visual Art (250 3rd Ave. North, Minneapolis), a limestone Chicago-style former 19th Century farm machinery warehouse remodeled into artist studios. Reeb teaches workshops in Encaustic, printmaking and painting (nationally), mentors artists, taught Zoom classes during the 2020/Covid shut-down, and accepts commissions.  She's also an educator for R&F for pigmented wax bars and oil sticks, and Golden Acrylic Paints. 
Although some of her wall sculpture is made from aluminum roof flashing, her Encaustic photo-collages and circular-paintings were the focal point of her Anchorage demonstration.  For wax flatwork Reeb begins by using a film camera to snap flowers. Developed images are printed onto archival tissue paper. The paper is then embedded into layers of hot wax which get poked and prodded into a composition. Reeb remarks, "I use contrasting materials and substrates to create works that oscillate between painting and sculpture…. As each work evolves, it gains an identity that eventually solves itself through process, positive and negative space and dimension."  Reeb's multi-colored disks of wax/paint dance in a variety of sizes on bedroom and hospital walls.  Singularly minimal, they become highly complex as a unit and reminiscent of genres from another era: Bauhaus or Futurism, which juxtaposed paradoxes of the machine age with once pastoral civilizations.  
Reeb, who is also concerned about the environment writes, "Working with beeswax as my primary painting medium has me very concerned about the recent decline in the bee population. Modern encaustic is primarily composed of 85% natural wax, produced by honeybees. There are over 400 species of bees in Minnesota, but native bees are declining at alarming rates…. [I] partnered with the Minnesota Landscape Aboretum [which is] a sanctuary for bees…a dedicated team of researchers, and an outreach education program partnered with the University of Minnesota." 
Even though male artists still dominate art markets and generally collect higher prices, being a creative woman is improving.  We've moved beyond Artemisia's (1593-1653) thumb screw experience and Elizabeth Vigée Le Brun's Revolutionary flight out of France in 1789. While the winter of 2020/2021 will be remembered for Covid, several museums and online webinars showcased female, Abstract-Expressionist artists: Audrey Flack (b. 1931) Joan Mitchell (1925-1992), and Alice Neel (1900-1984), who in the Fifties took a backseat to the likes of Pollock and de Kooning.  Postwar Ab-Ex. women, especially wives, were mere muses, along with alcohol, cigarettes, drugs and girlfriends.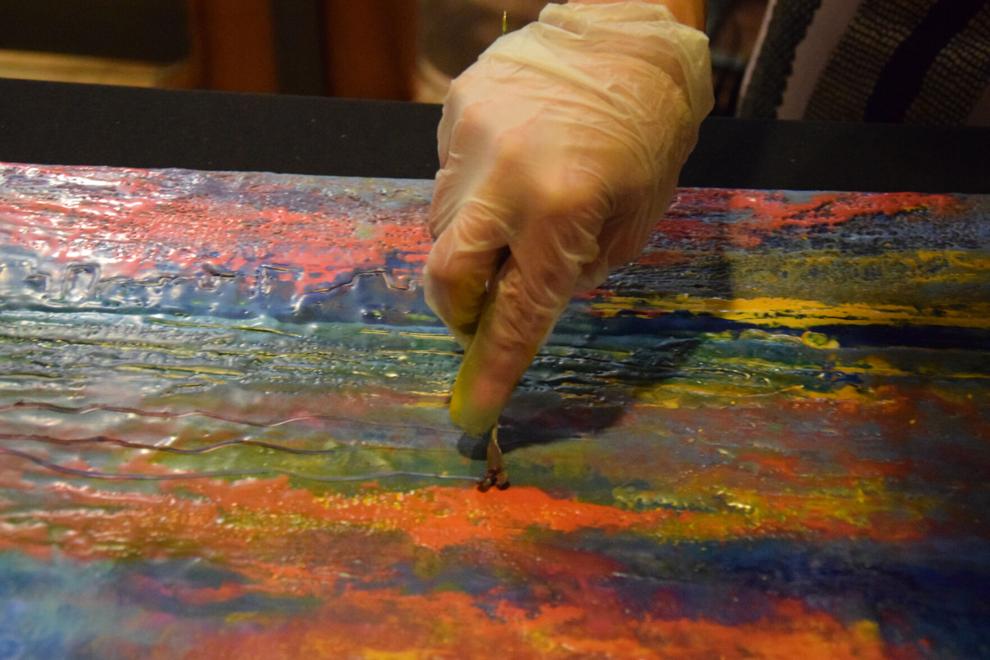 Being a woman artist and living on your talents isn't easy. It helps to be an instigator, organizer, and possess savvy to see when/where to seize opportunities whether online, getting into galleries or even joining co-ops.  Many female artists delay careers to have children, and are castigated for being older when returning to art school–even worse when trying to enter the gallery world. Others moonlight, crafting art on the sidelines, or wait until they are financially comfortable. Sometimes juggling artistic passions with another completely different occupation can be an incubator for a future full time aesthetic operation, with less burn-out. 
Gayla Ranf, Jodi Reeb and Becky Stephan are not only talented they are aesthetically and inspirational survivor-women. 
Mini Sleuth:  Essay title was adapted from Cole Porter's song 'A Troupe of Strolling Players Are We (Kiss Me Kate 1948) '. 
Jean Bundy is a writer/painter in Anchorage. She serves on the board of AICA-International